We are experiencing sailing for the first time, which is a big deal for us!
Let me give you a bit of a context to better understand why we are so excited about this little sailing adventure.
Back in November 2019, I saw a tweet where Sailing La Vagabonde was sharing their departure from New York to bring Greta Thunberg to COP25 in Madrid. I can't really find that tweet anymore, so not entirely sure how that made its way into my feed, but below is the picture that got my attention…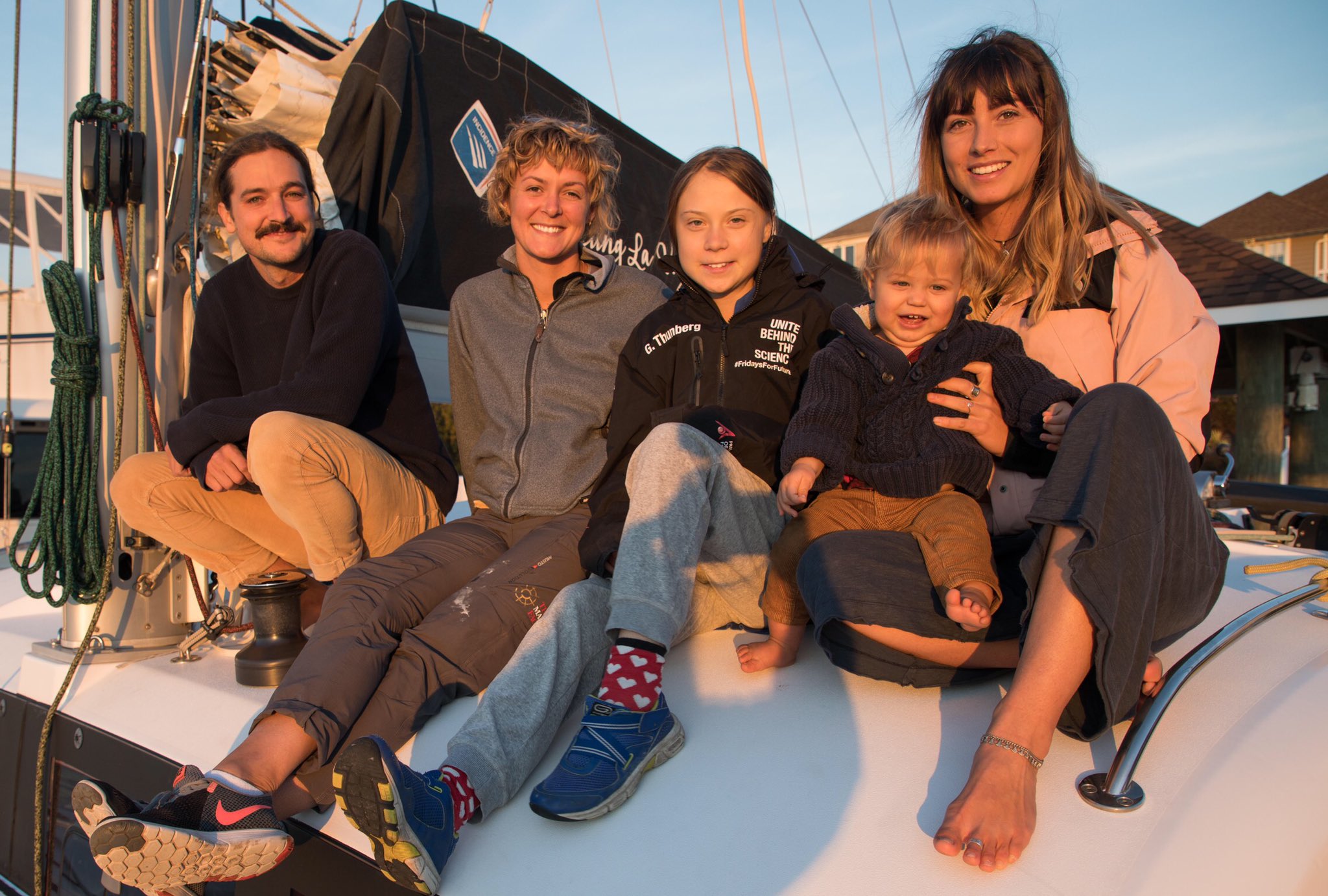 I clicked the link to learn more about this story and found Riley and Elayna, an Australian couple documenting their journey traveling the world by sail on their Youtube channel. Their story inspired us a lot and led to the discovery of other couples and families like Gone with the Wynns, Sailing Zatara, Sailing SV Delos and many more, who travel the world as way of living.
While these are all greatly inspiring stories, what got really sparked during the discovery of those world traveling couples and families was our desire to travel and explore the world, no matter what way of transportation.
For example, Gone with the Wynns started out with an epic road trip around North America with an awe inspiring trek around Alaska which took them six years before they switched their home from a RV to a catamaran, continuing there world exploration on sea.
Another example of creativity that we discovered was Mogli and her boyfriend and filmmaker Felix Starck with their project Expedition Happiness where they traveled the US and Canada in a converted School bus.
We didn't (and still don't) have the financial means to get a motor home and definitely not a sail boat, but we thought we could live our daily life in different places and call them home for a little while before moving on to the next one and explore the world that way.
That's basically what inspired us to start our nomadic lifestyle and document it on our Youtube channel.
During our stay on Madeira we started an online sailing education program with NauticEd but so far it has all been theory with no practice whatsoever.
The proper way would be to book a practical sailing course, but that's still a bit out of reach for us at the moment, which is one of the reasons why we booked this Airbnb Experience with Pat as he promised to let us be hands on and give us as much as possible practical experience of sailing during this few hours.
The other reason why we booked this Airbnb experience (which is our first one ever) is to meet people living here on Gran Canaria, and boy we didn't know what treat we would be in with this one.
As we are super excited, we arrive a bit early, and have enough time to take a walk along the marina, which has various restaurants and marine supply stores along its quite long front.
At 3pm we meet Pat and Jess at the entrance of Club Marítimo Varadero de Gran Canaria and after a quick intro we are off to the boat.
Pat is an Anglia Irish man who lives for many years here on Gran Canaria, and while walking to the boat we get a first glimpse into his passion about life and sailing which feels super contagious.
After a lovely, very energetic chat with some other sailors on the pier, we arrive at the boat, which is a Beneteau Oceanis 361 Clipper named "Crystal Magic".
We get our safety gear and instructions around safety on board along side with some introduction to the boat and what we are going to be up today.
Shortly after we leave the marina dock and make our way out to the open ocean where Pat shows us how to navigate the boat out of the port while also setting sails.
Once out of the port we sail for a few miles to the east, where I have my first experience on the helm, keeping the boat on course while watching the telltales to ensure that the sail is set at its best setting.
The sea is generally calm and the wind is stable once we are out of the port area, until a tugboat overtakes us quite closely, causing some waves for a little while. I'm truly enjoying those moments where I start to feel the boat with changing swells and shifting winds.
We both enjoy the feeling of gliding over the water with the wind in our backs, no engine noise and beautiful views of the entire island in the background - which is exactly what we were hoping for - blue sky and sunshine would have been nice but that's not very common in the area of Las Palmas around this time of the year.
A few miles out, it's time to make a turn and sail back to to port area, which means it's now Lauza's turn to take the helm and for me to get more hands on with tacking.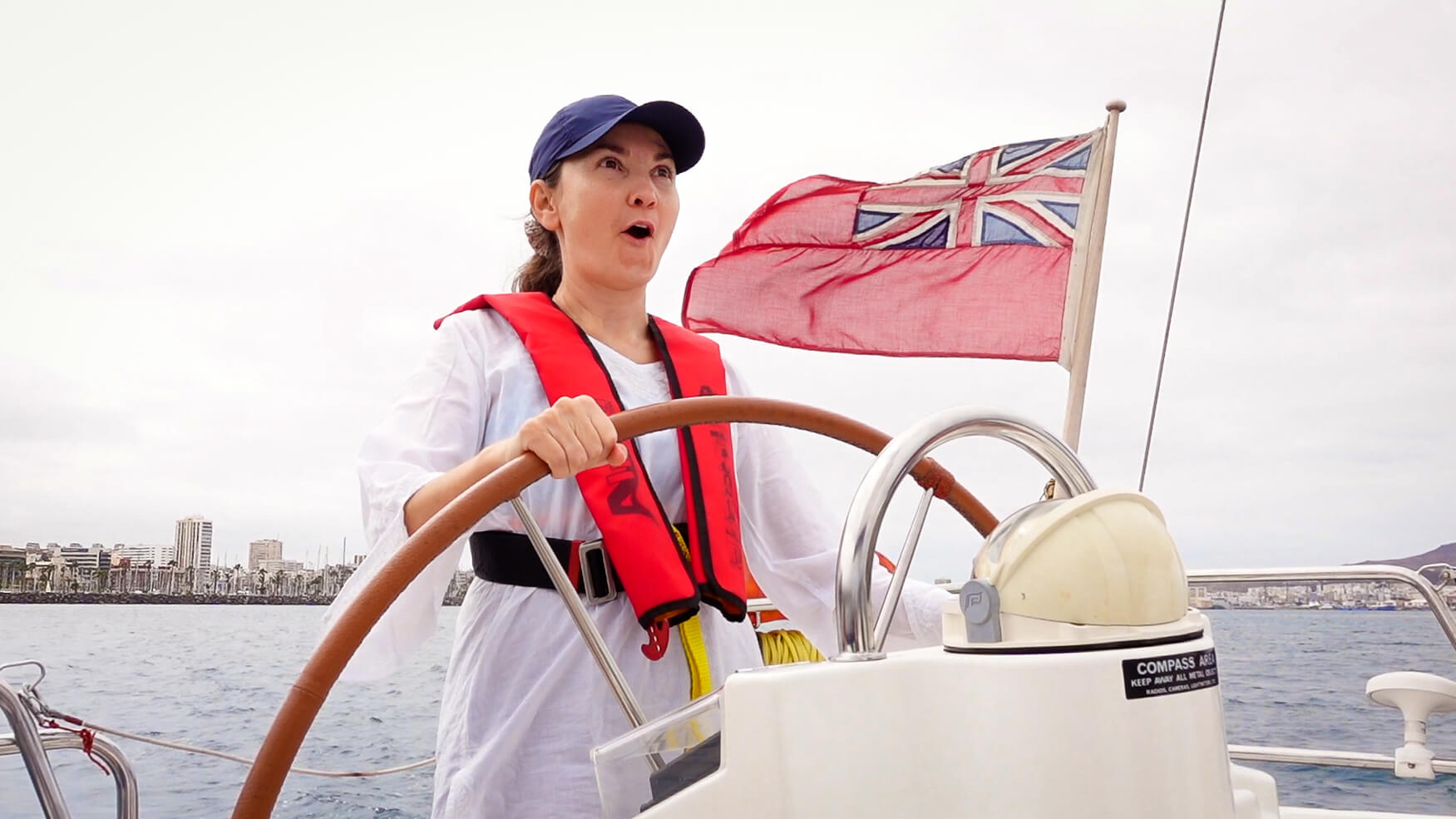 We target Playa de Las Alcaravaneras as our anchor spot, which is just at the beginning of the port area.
Once we are on anchor, Pat and Lauza are going for a swim, while Jess and I stay on the boat, preparing for a little snack, cracking open a can of lemon beer and having a bit of a chat about our travel experiences.
In the meantime, Pat and Lauza are swimming over to the marina surrounding rocks to snorkel and look out for some fish. Looks like this time, Lauza is much more relaxed which makes me super happy to see.
It doesn't take too long until they are back and this time Pat borrowed Lauza his swimming fins which made it much easier for her to keep up with him and enjoy snorkelling.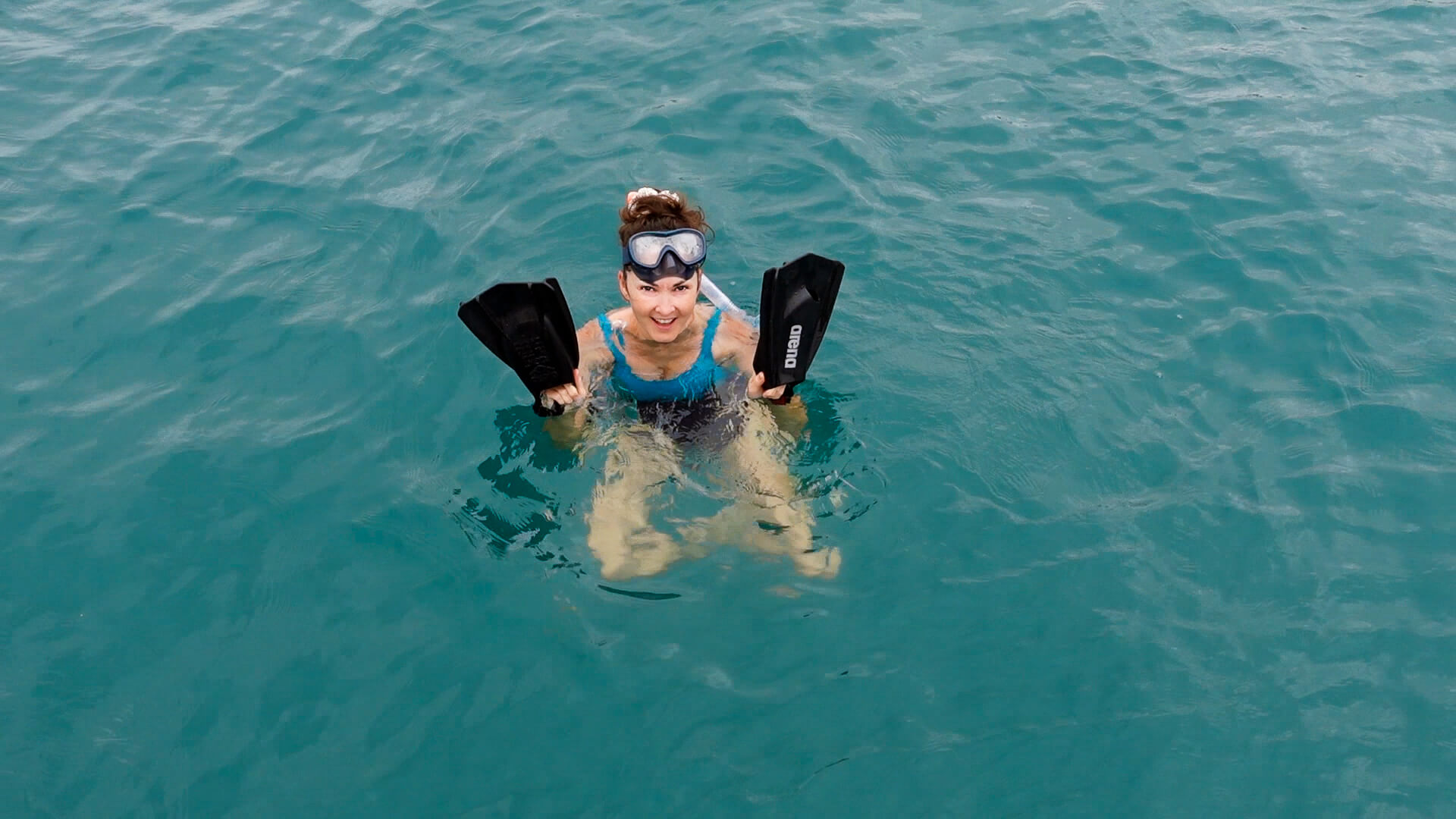 As soon as they are back, Pat prepares tea for himself and Lauza (which she truly enjoys as tea is a form of ritual for her) while Jess and I continue enjoying our lemon beers with some cookies and nuts, which brings us to the last part of this sailing experience before returning back to the Marina - Knots.
Pat has obviously his personal cheerful way of learning us a few of the most common boating knots with lovely stories, but I can't really focus on the stories and how to make knots at the same time, so I just try to make sense of the way Pat shows me and repeat them - they are actually quite logical and simple to do ;-)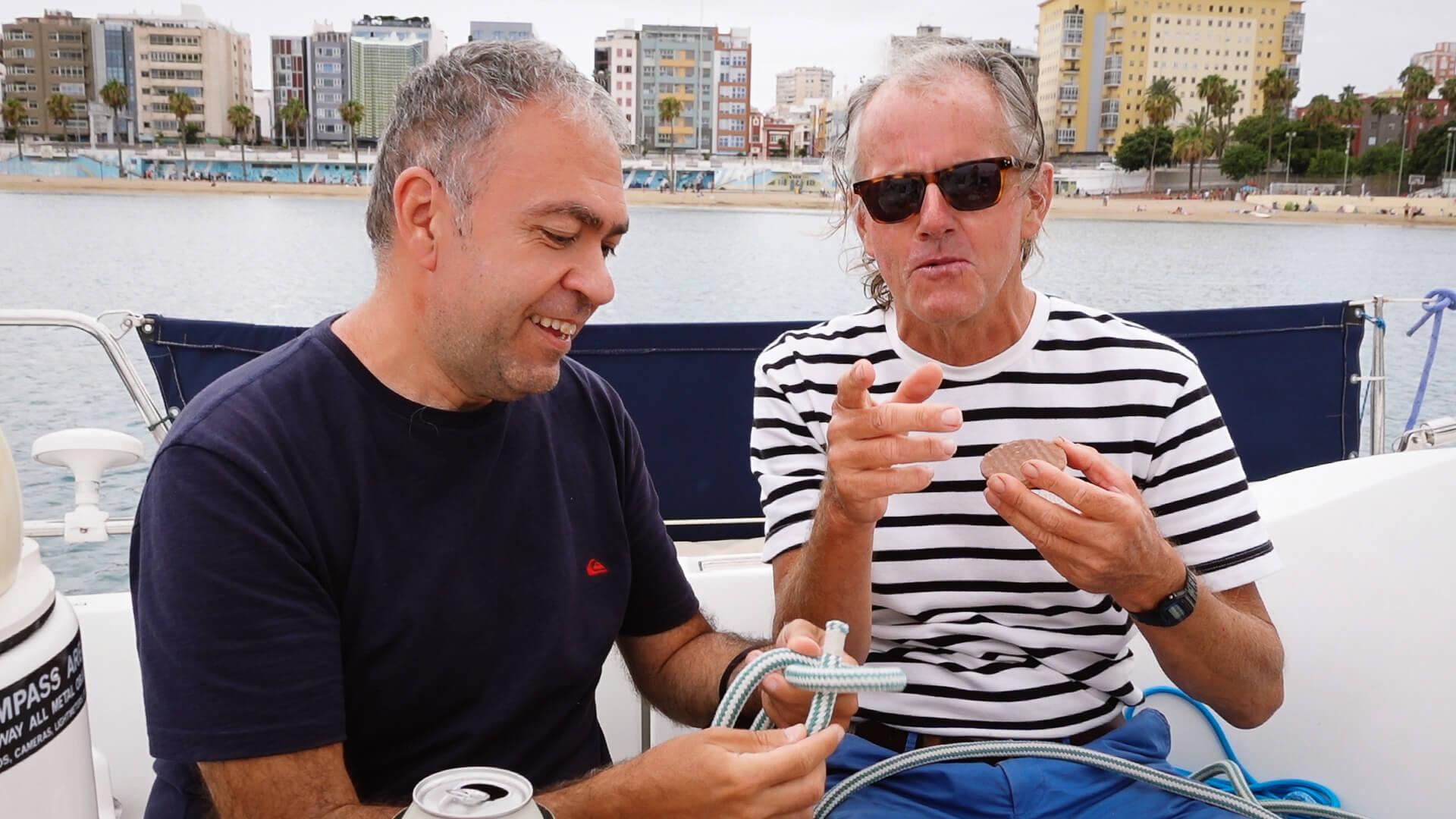 At this time we are just a few hours in but it feels like we spend time with good old friends, which makes this time extra special for us. We are all passionate about travel, alternative lifestyles and obviously sailing, so lots to chat about before we raise the anchor and head back to the dock.
Docking is the last part of the sailing experience where Pat shows us his routine to secure the boat and what to think about before leaving the boat for a final drink and chat together at the Club Marítimo Varadero de Gran Canaria.
Thank you Pat and Jess for this unforgettable few hours!