It's now one week since we arrived here on Gran Canaria and after our first day of exploring the island last Monday, and a busy week of work, we are ready for the first full weekend.
We bought some basic snorkel equipment back in Madeira, which we haven't used yet, so we want to spend this weekend for giving snorkelling a first try as Gran Canaria has amazing white- and black sand beaches, pebble beaches and volcanic pools.
Over the last few days, we put together the following short list of beaches that should be good for snorkel beginners:
With a bit of a late start into the day, we pick up our rental car and leave Las Palmas just around 11am.
Playa de Amadores
After roughly 1 hour of drive down to the south of the island, we arrive around 12pm at Playa de Amadores which is a gorgeous white-sand beach with clear blue water, located in the south-west of the island.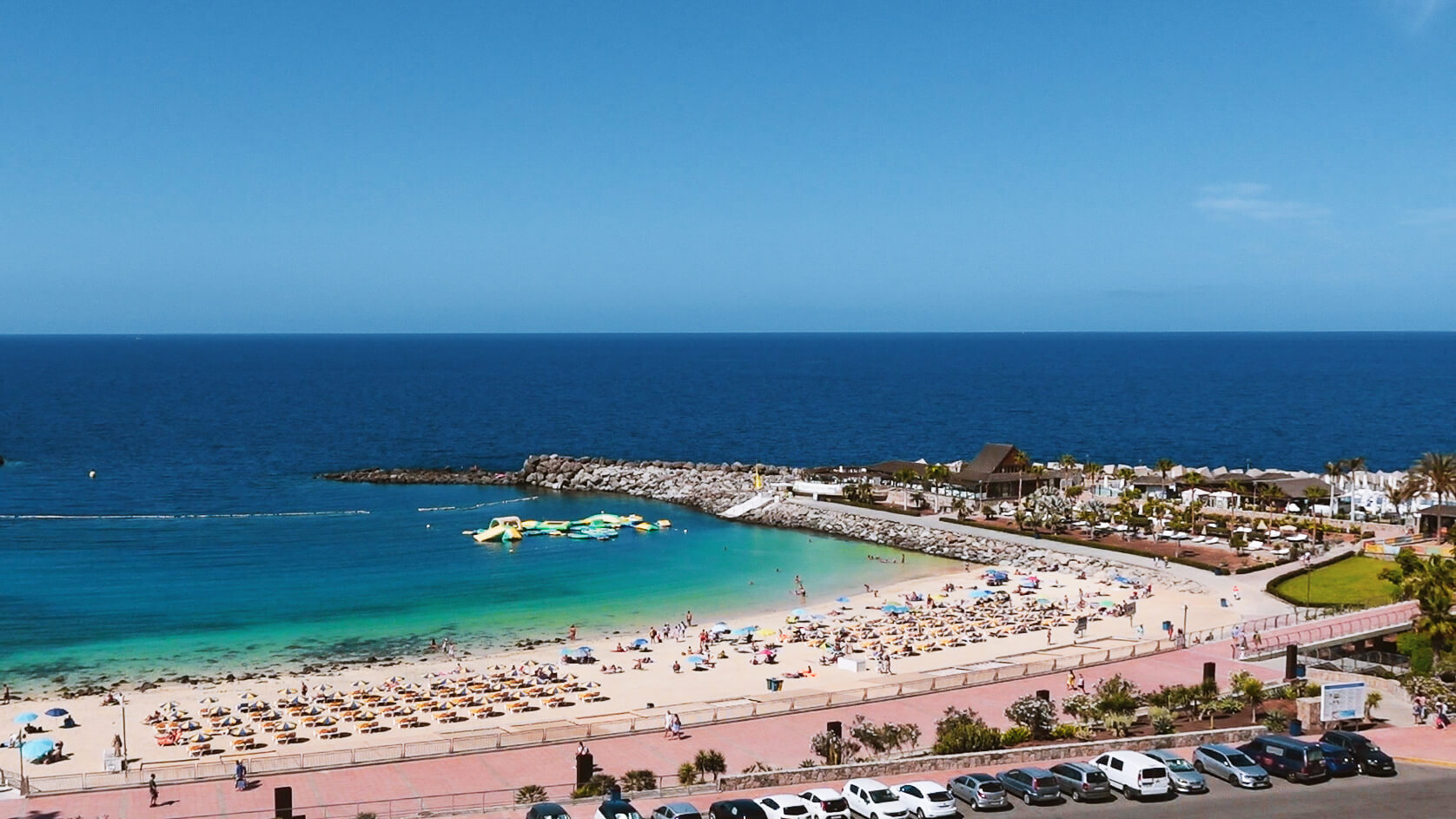 We quickly check out the beach and the recommended snorkel area which is located just behind the paddle boat pier along the man made wave breakers. It's recommended for beginners due to the super calm and clear water.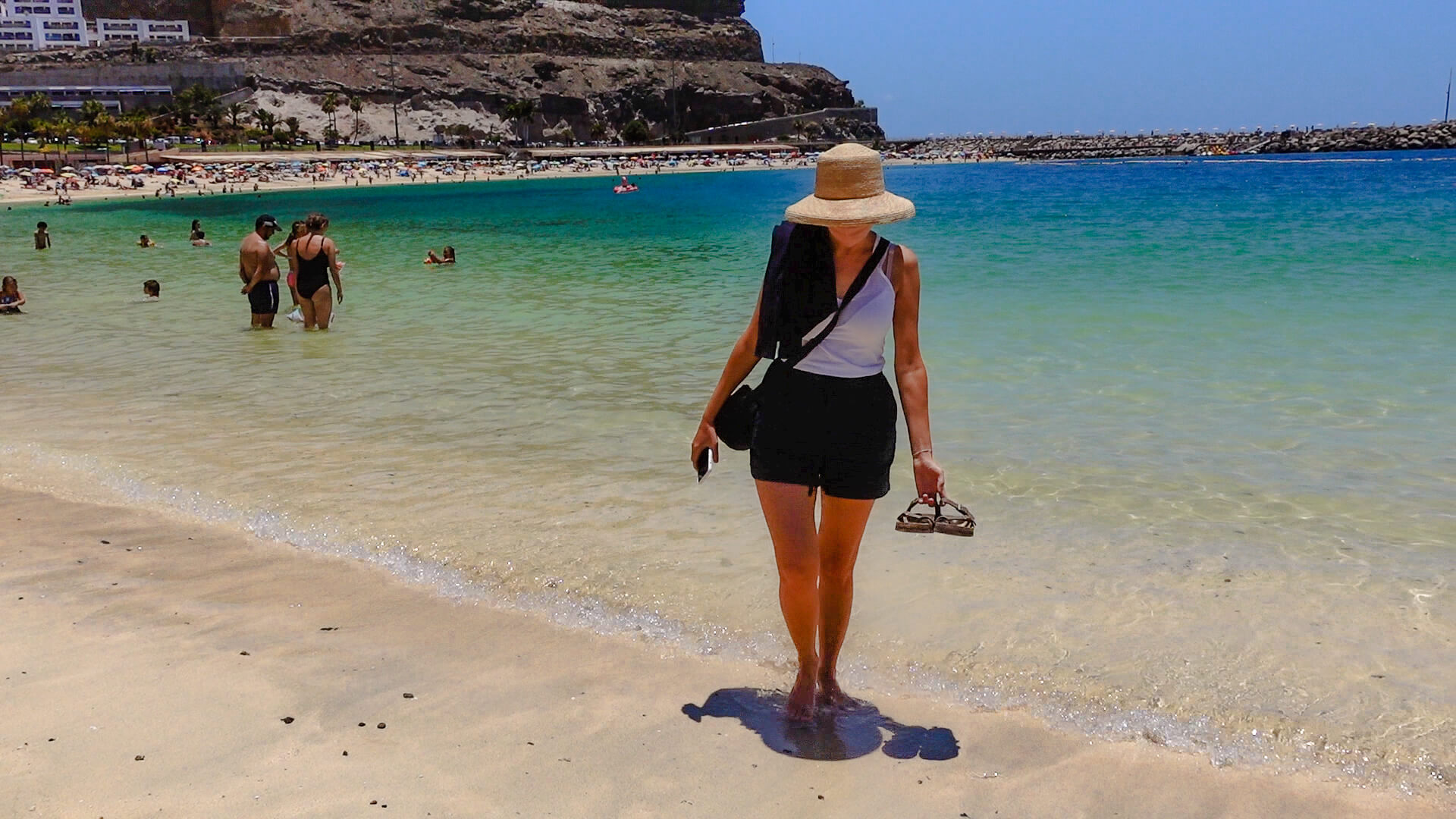 When we arrive, there are many guys fishing, which seems like not a good time for snorkelling due to the many fishing lines going in the water, so we decide to go for lunch first.
There are plenty restaurants and various beach shops along the entire back of the 800m long beach. Our initial plan (based on recommendations) was to check out the Palm Beach Restaurant, but it's closed, so we wonder along all the restaurants until a friendly Moroccan guy named Ali, talks us into giving the Restaurant "Blue Beach" a try. He promises us that we wouldn't need to pay if we don't like the food and as every restaurant offers more or less the same choice, we go for it.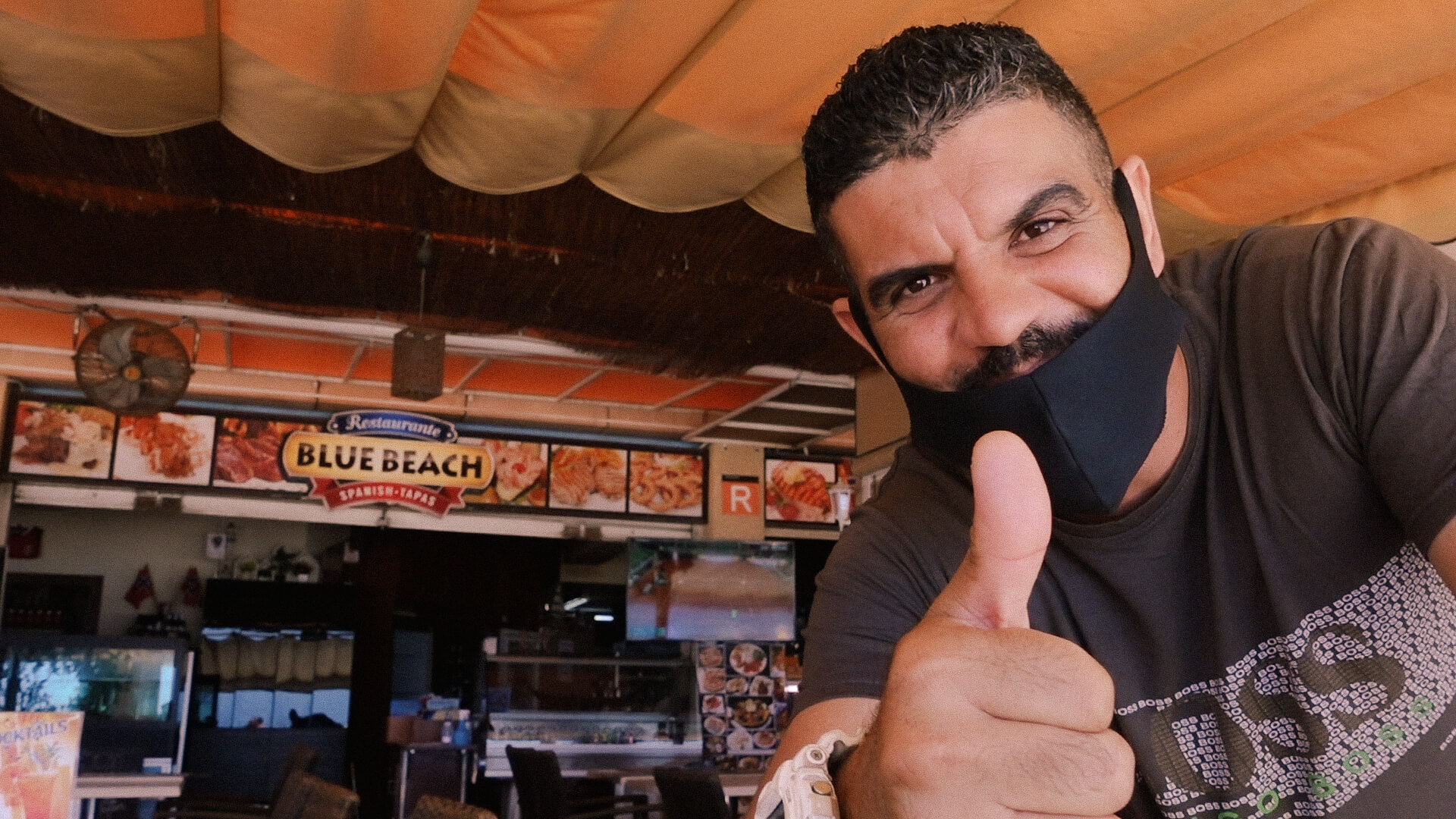 The food is actually really good and as it's too early for most people to have lunch, we enjoy the quiet restaurant with a beautiful 180 degrees view over the beach.
From the restaurant we can see the fisher man keeping their spots along the suggested snorkelling area, so we decide to move on to the next spot which is just 15min drive away and according to our research more than just a spot for snorkelling.
Puerto de Mogán
Puerto de Mogán is a picturesque fishing village and popular marina next to a white-sand beach and a volcanic rock named Amore Rock.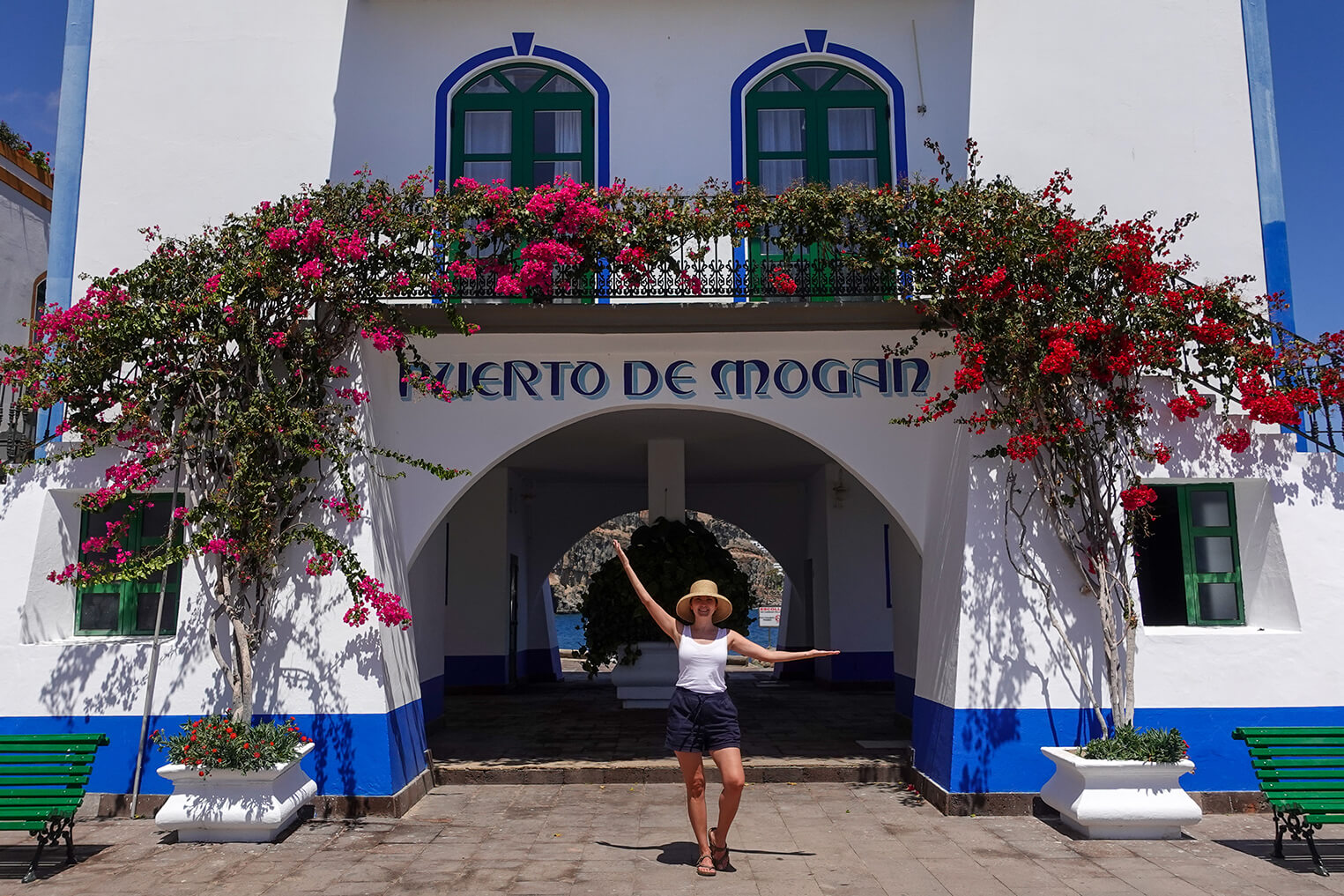 We are obviously not rushing, so after parking the car in the central underground car park we take a stroll through the truly picturesque old town behind the marina, which is probably all over Instagram due to its beautiful white houses and colourful flowers.
Mogán is also called "Little Venice" or the "Venice of the Canaries", due to its canals linking the marina to the fishing harbour.
It's one of those places where you can stroll between the narrow streets, sit at the marina enjoying a coffee and just relax, which is obviously what we are doing.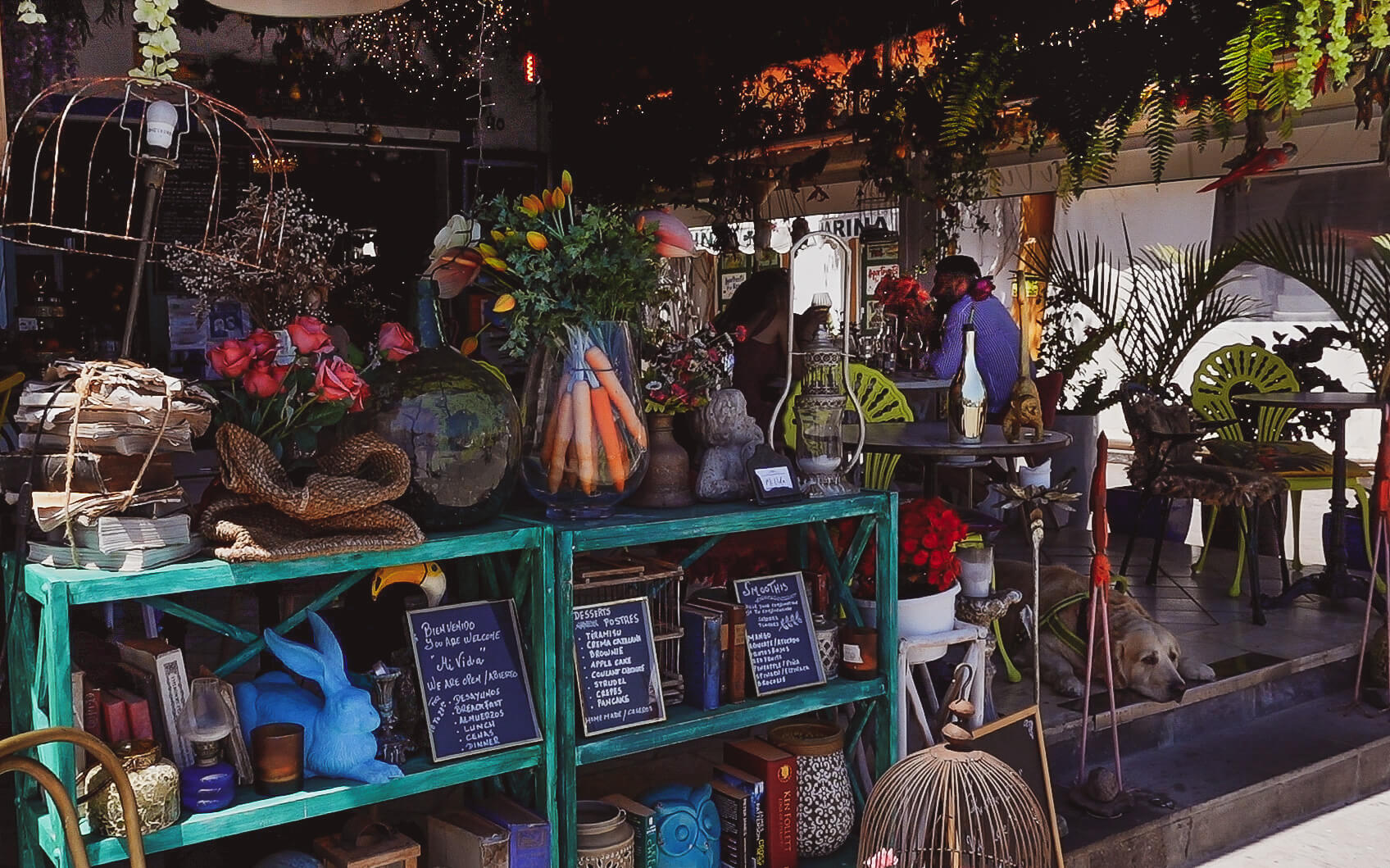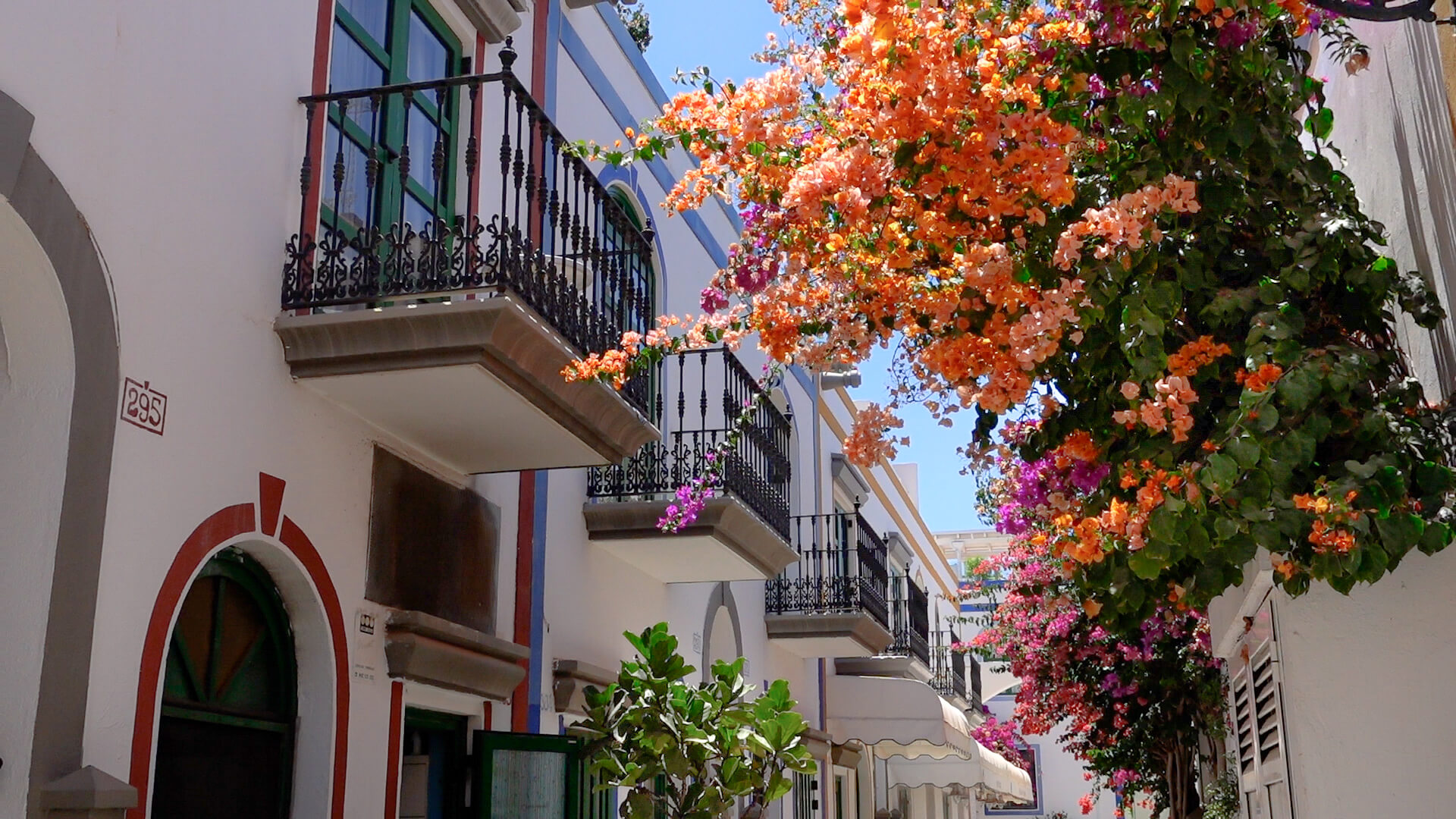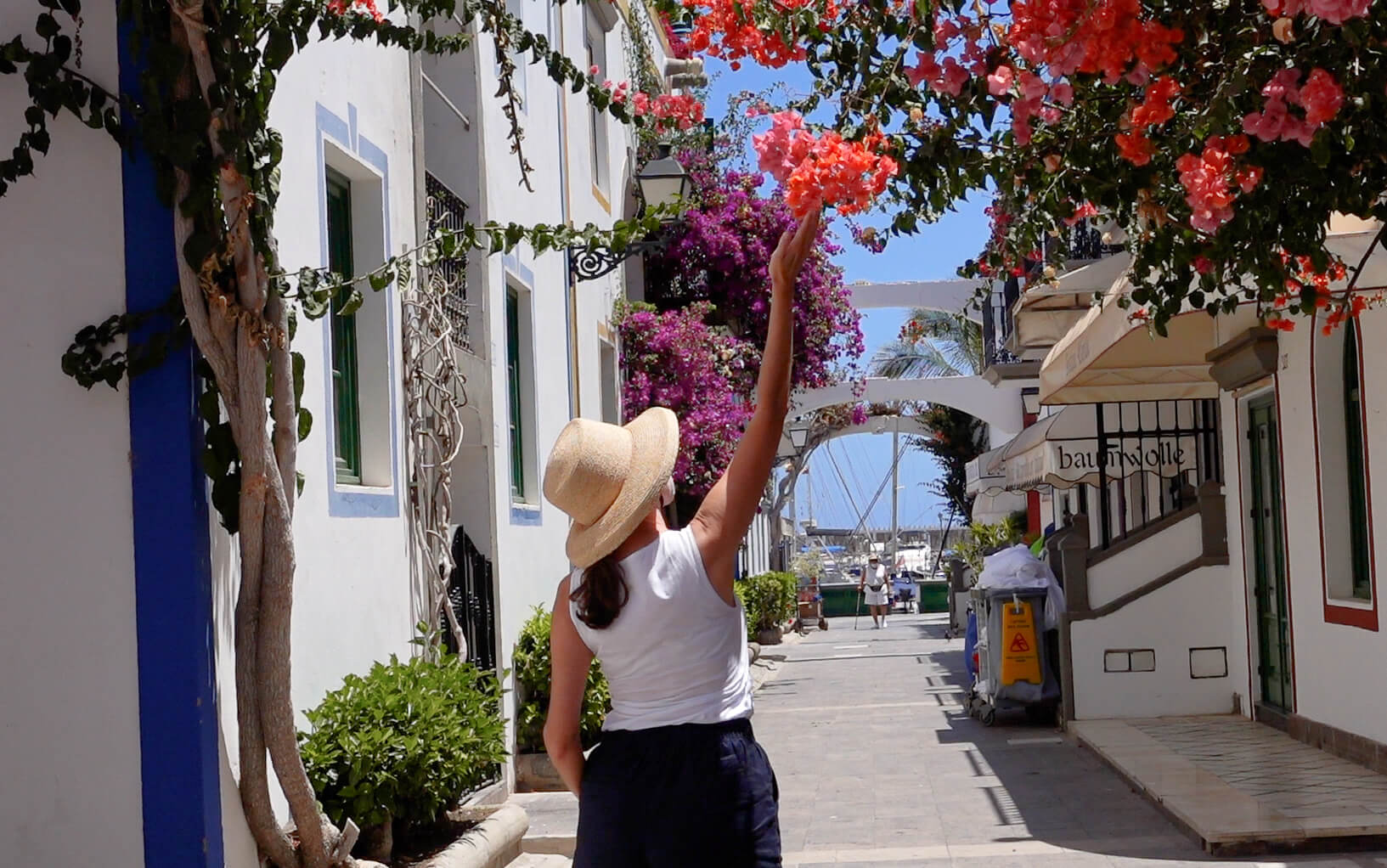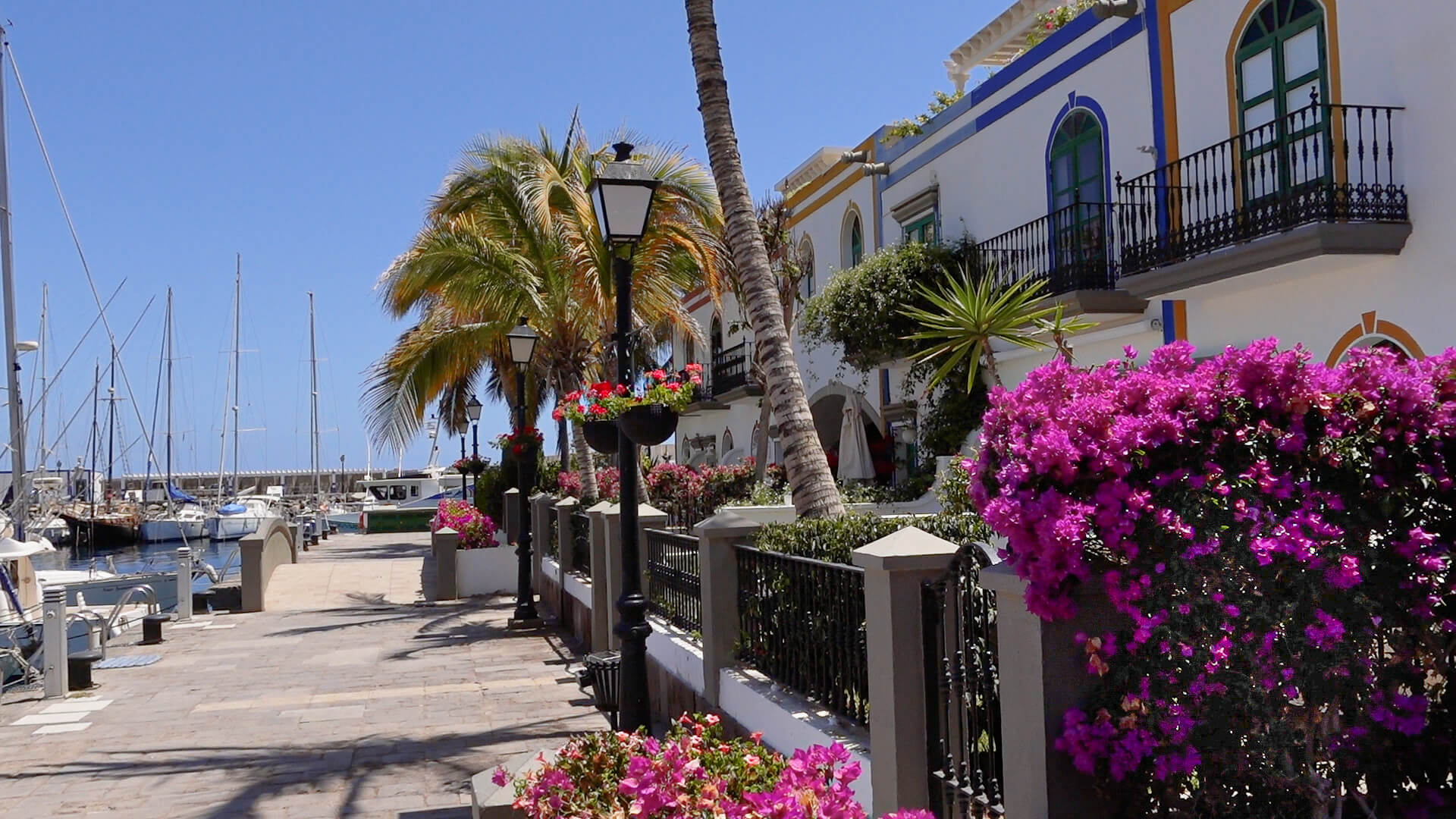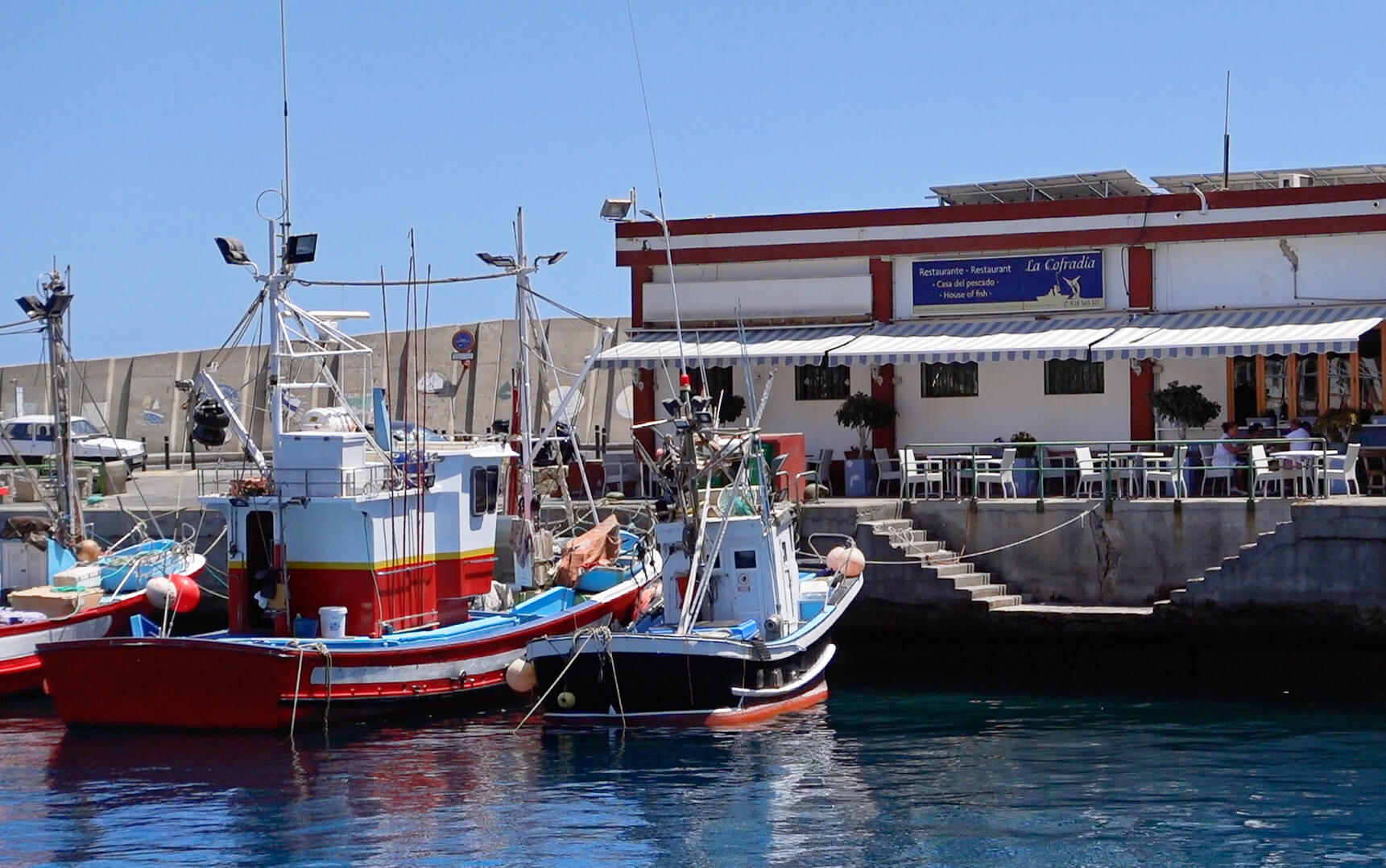 But now it's finally time to get into the water and snorkel.
We head back to the car, change and walk over to the other side of the beach where we find a handful others snorkelling next to the Amore Rock.
This area isn't as protected as Playa de Amadores which means that there are waves coming in. However, there are stairs down to the water and the entrance is quite flat which makes it easy to get into the water, although it's quite slippery.
It's the first time for both of us and while I embrace the waves and drift away with them, Lauza stays closer to the entrance, getting used to breathing under water which she finds quite challenging at first.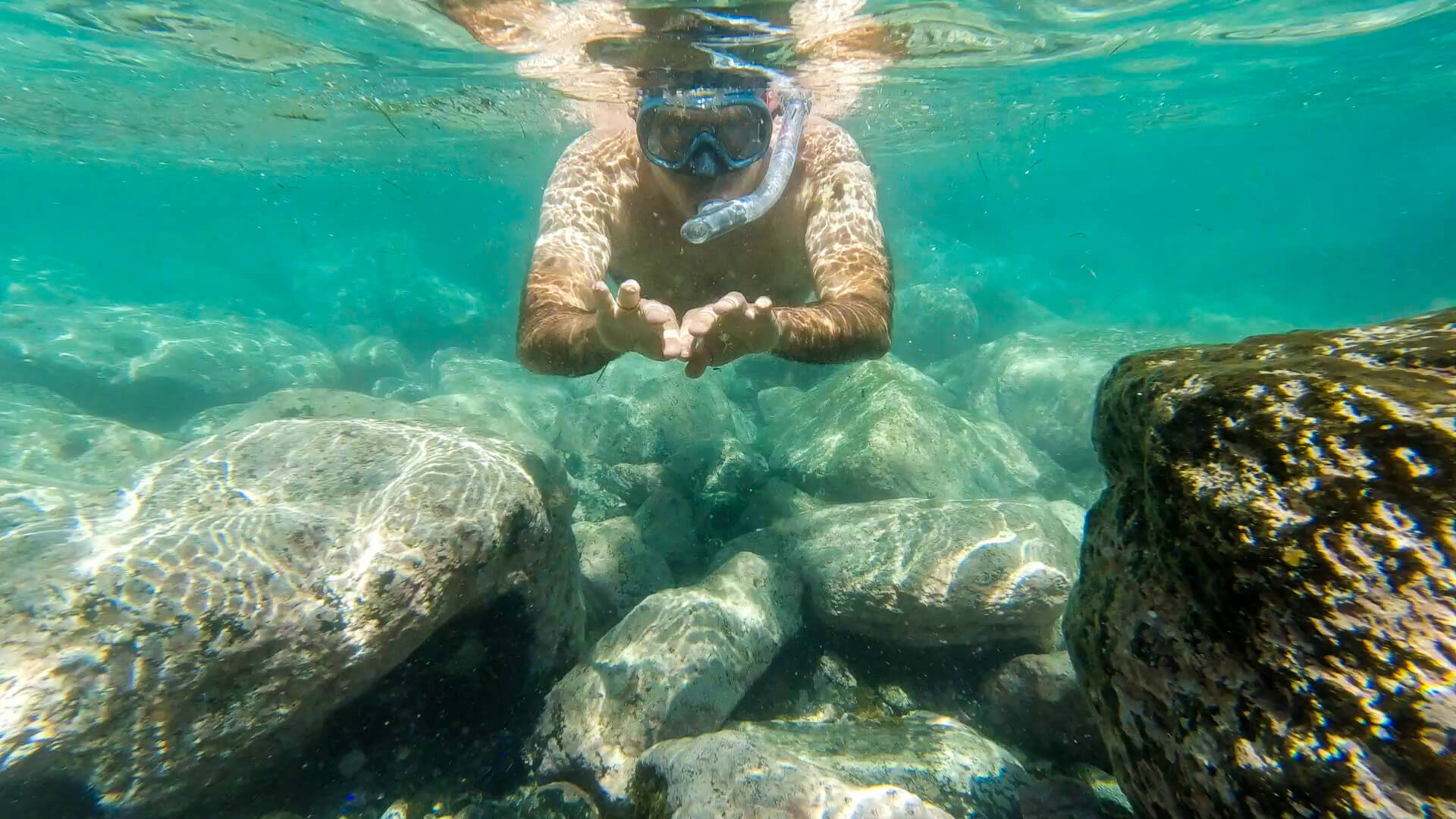 It's a good beginning, but the incoming waves and partly shallow rocks make it challenging to relax and actually enjoy the few fishes that I could make out.
While snorkelling around rocks and stones seems to be better in terms of fishes and visibility compared to sand beaches, the stones make it also more challenging as it's hard to hold on to anything.
So the first learning is that we need some sandals that we can swim with, that allow us better grip when walking in and out of rocky areas.
As it's getting already late afternoon, we decide to drive back towards Las Palmas and stop at the large Decathlon in Telde to check out if we can get some affordable sandals that we can wear when exploring these more rocky shallow snorkel areas.
That's it for the first day...
---
... good morning on a beautiful Sunday, where we continue our first attempts to snorkel here on Gran Canaria.
Yesterday we visited beautiful sand beaches (although our first snorkelling attempt was at a stone beach) in more touristic areas and today we want to explore smaller, more local beaches.
Playa de Tufia
We start out at Playa de Tufia, which is probably the most eastern beach on the island. Tufia is located north from the airport, about 25min drive from Las Palmas.
We leave the highway and drive along a small road through a deserted landscape, until we arrive at the small village of Tufia, which seems to be a desired spot for scuba divers based on the many vans with groups of scuba divers gathering around.
It seems like a very small and simple village which can be overlooked from Mirador Playa de Tufia, a little view point just next to the parking.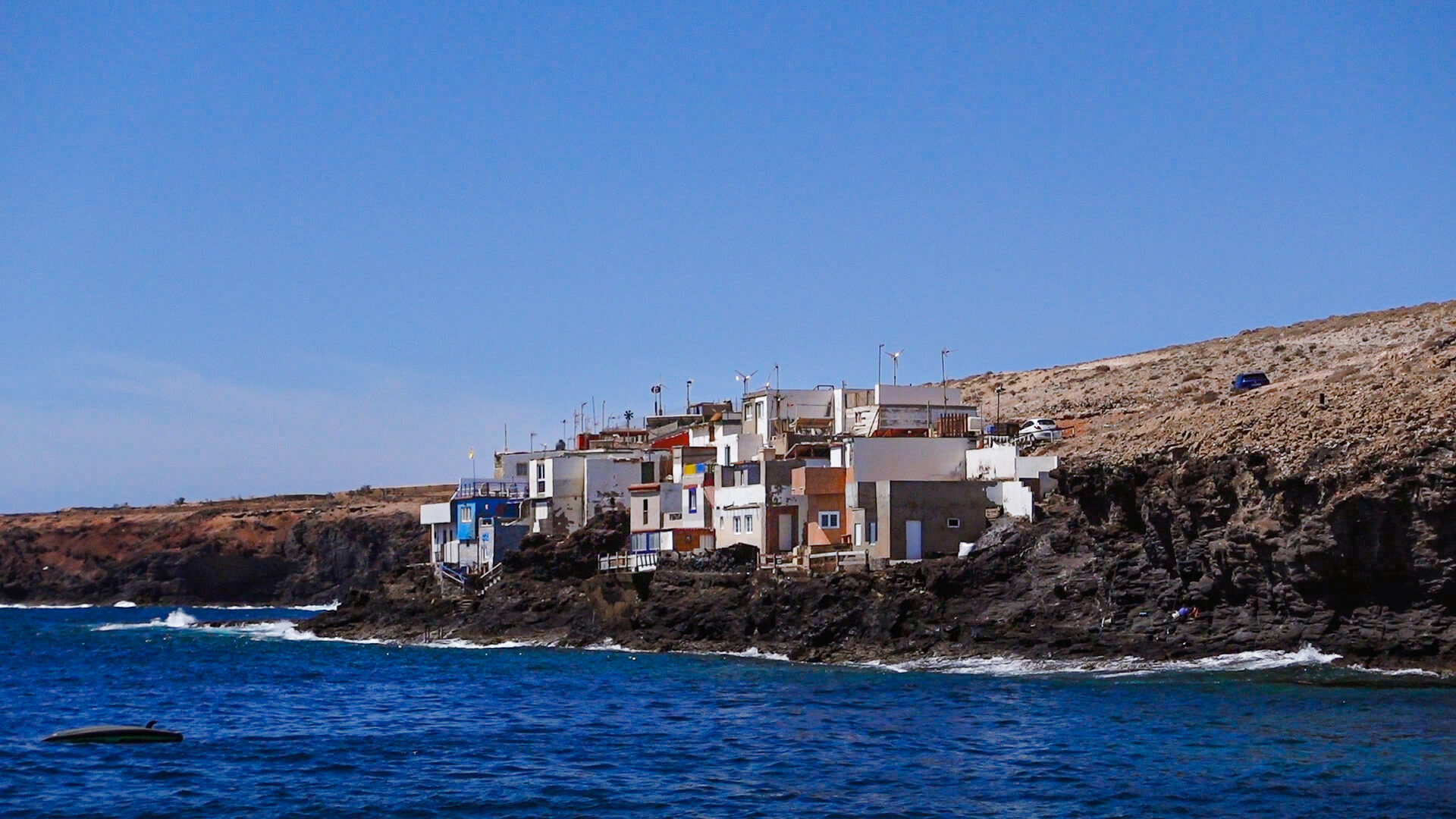 The parking is quite exposed and really windy, so we grab our stuff and walk down the narrow road through the village, aiming for the beach which has a very local feeling.
On the way down, a group of locals comes towards us pushing a little boat up the narrow street, which looks like a small community event where the village comes together to help out.
The small narrow beach is just in front of a building and there is a little pier connecting the beach with the volcanic rocks to the side where some fisher man gather to get their catch of the day.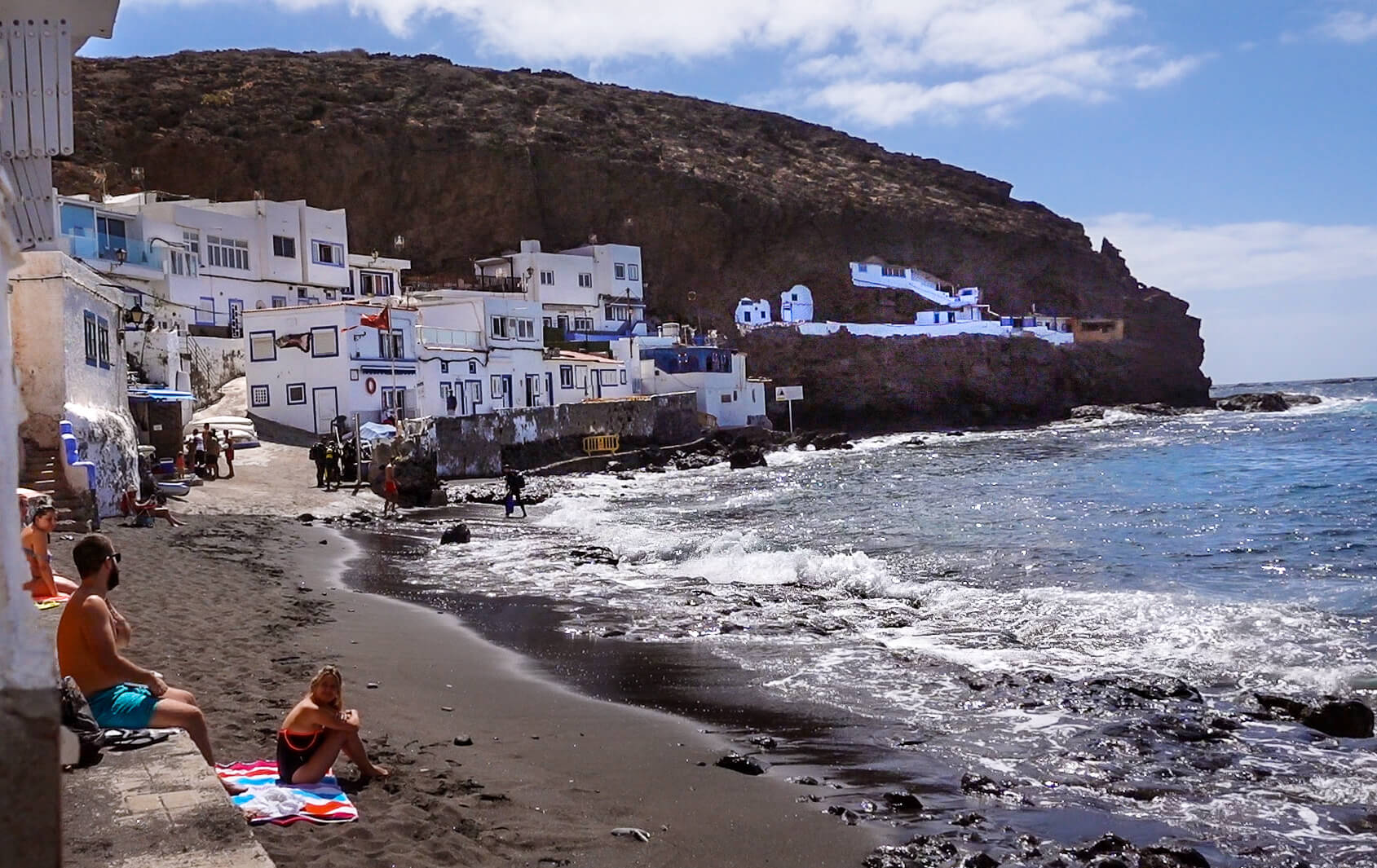 Directly from the pier, there is a house with its front kitchen door close to the water with waves splashing against a little protecting wall. That's as close as you can live to the water!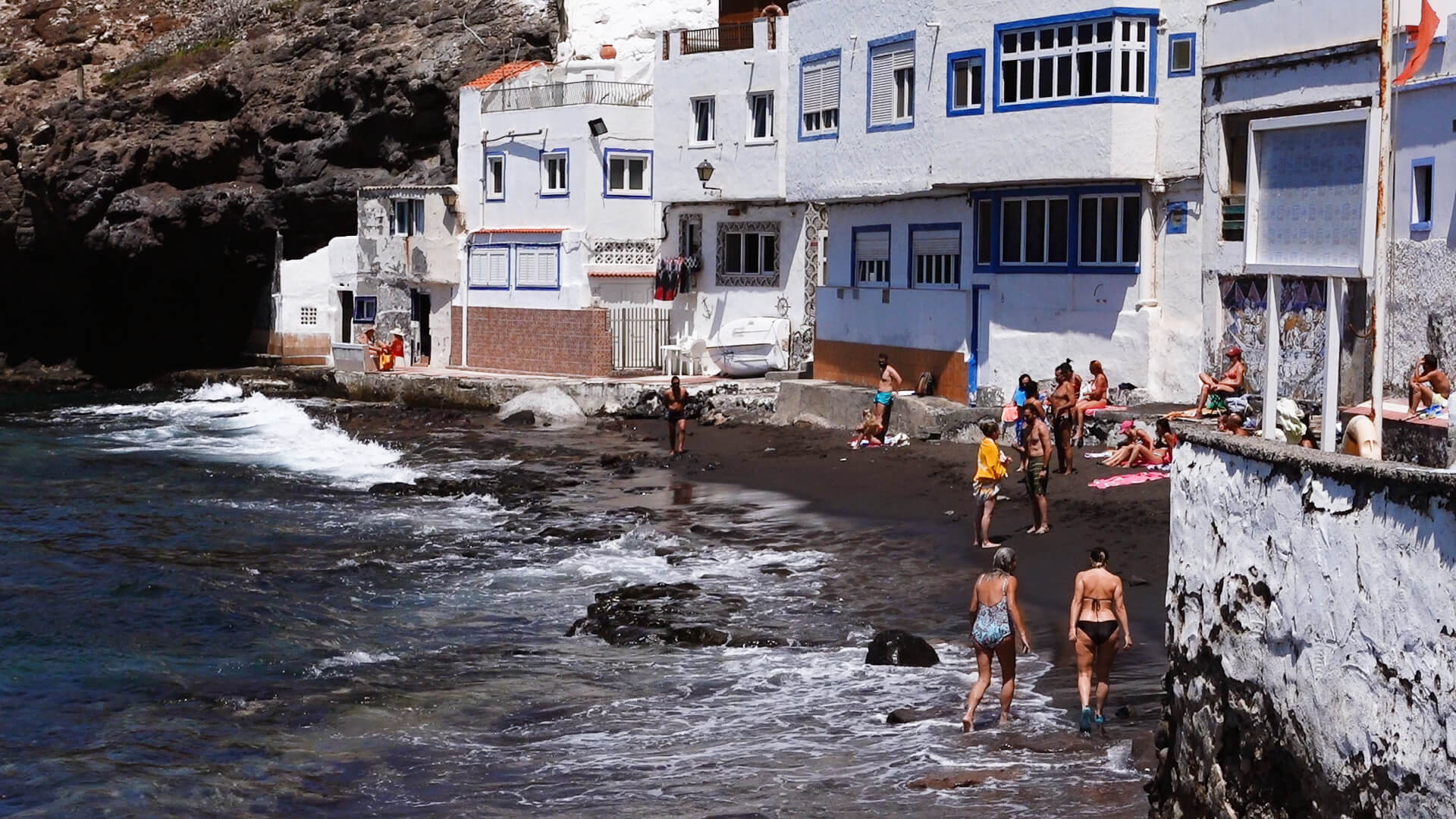 As there are no restaurants or coffee shops, there is also nothing distracting us, so we get quickly back to the car to get our backpack with the swimming and snorkel stuff and head straight back down to the beach.
Lauza decides to wait this one out as the waves are too scary for her but I'm in the water in no time.
This is the first time I'm putting my new sandals to the test and it's indeed a very different experience, being able to walk in and out of rocky and slippery areas.
I try to swim out towards the left side of the beach, so I get closer to the rocks and away from the sandy shallow beach area. I'm swimming with the action camera in one hand, which makes it hard to swim against the incoming waves, so I constantly drift back towards the rock formations just next to the sand beach where I can't find much fish.
I continue a few times to swim out through the waves and float back in before I get out of the water, being super happy with a huge smile on my face.
Lauza has been sitting on the stone wall just next to the rock formations, watching my probably awkward looking moves.
As this was just the first beach for the day, we don't lose any time, get back to the car and drive off to our next destination which is a 20min drive further south.
Risco Verde - Cañada de los Conejos
When we arrive at Risco Verde, we are welcomed by super strong winds and Lauza is very hungry (almost hangry), so we decide to first find a spot for lunch before we explore the possibility of snorkelling, which we are not that excited about due to the strong winds.
A quick check on Google brings us Restaurante Hornos de la Cal, which is located directly at the place that was suggested for snorkelling. Due to the strong winds we don't even bother to take our swim and snorkel stuff with us and decide to just go to the restaurant.
The restaurant is located directly at the water, well protected by the surrounding bay. We are quite early and lucky enough to get the last free (not reserved) table, which is generally a good sign. The seafood is truly delicious and the number of locals eating at this place with their families just confirms that we just found a really good although a bit pricy seafood restaurant.
It turns out that the bay would be quite wind protected, but on the way back to the car the wind gets so strong that we can barely walk, so we decide to just skip this snorkelling opportunity and move on to our next beach, which is approx. 40min drive further south (west).
Faro de Arinaga
Before we head off to this next beach, we see an interesting looking building on a near by hill, just a few minutes away from where we parked our car so we though why not drive up there and see what the view from there looks like.
It turns out that building is Restaurante Faro de Arinaga which is located just next to Faro de Arinaga, a little lighthouse.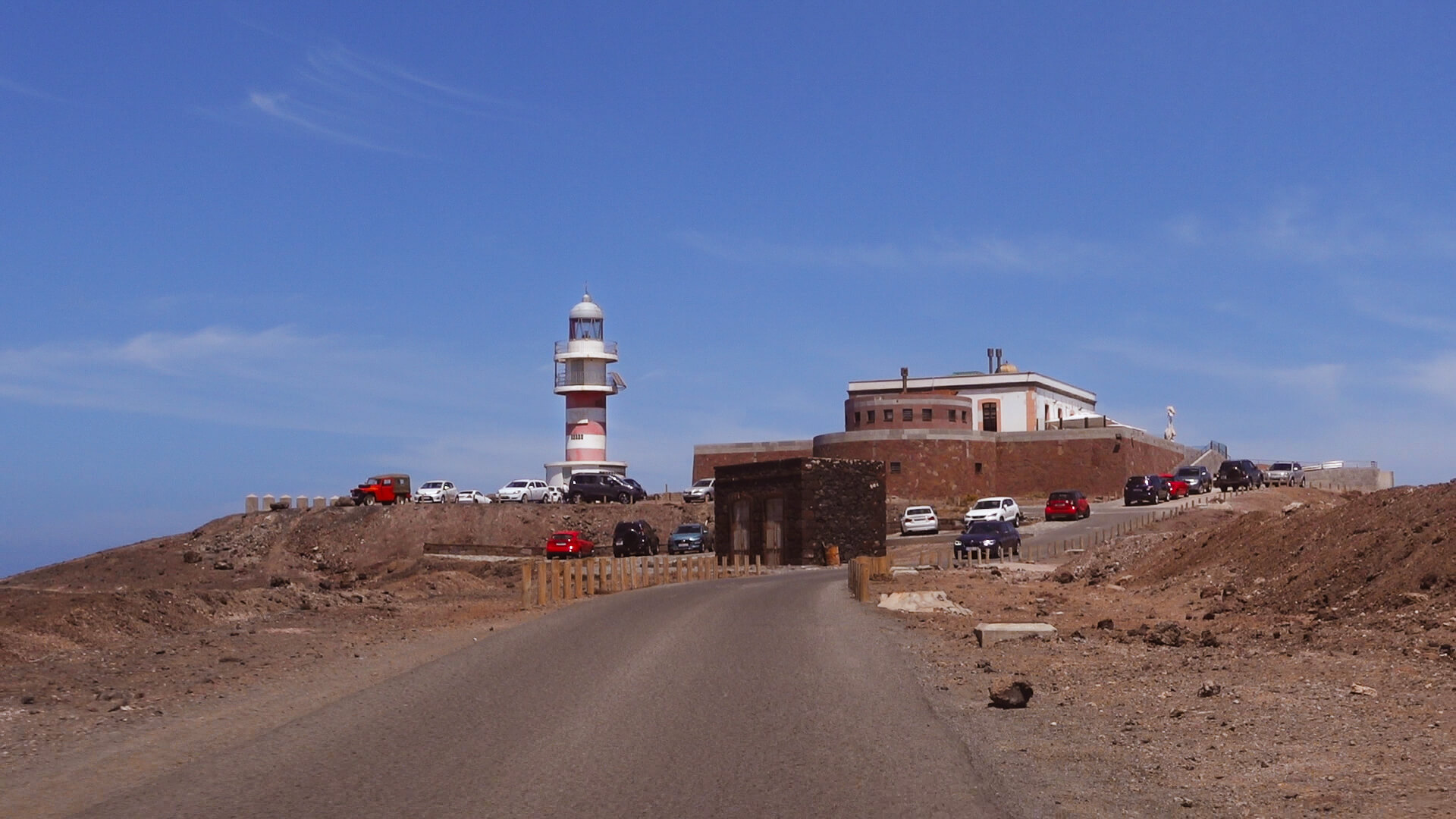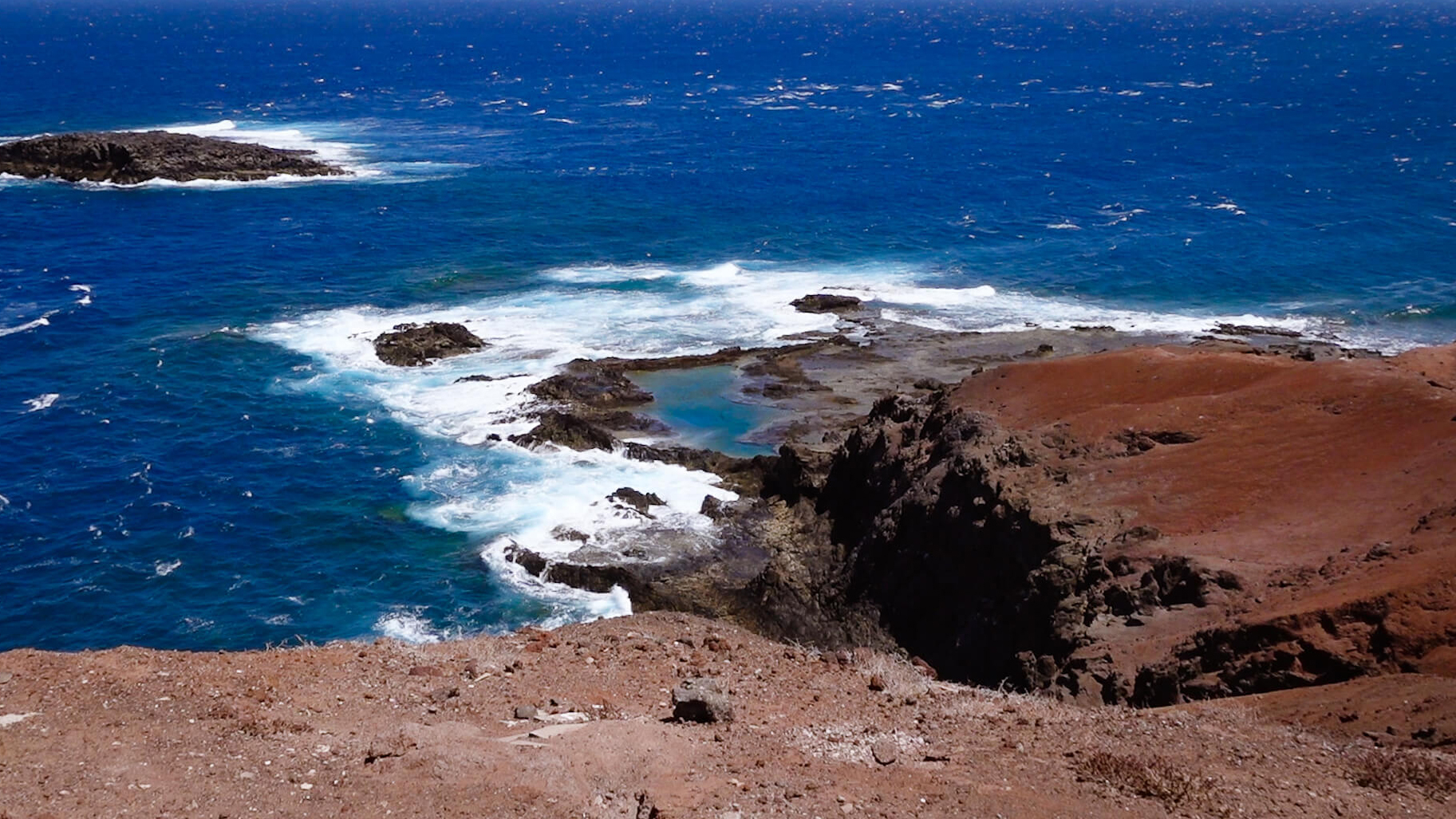 Playa de Tiritaña
After a 40 min. drive, we arrive at Aparcamiento Playa Medio Almud which is a parking just next to the road from where we have to walk down to our first remote beach Playa de Tiritaña.
There used to be a parking closer to the beach, but that's now closed and abandoned. The walk down to the beach is just about 500m, so not too far anyway.
This remote strip of sandy beach surrounded by rock formations & bluffs is quite hidden and when we arrive there were mainly locals having a picnic on the beach with a hand full of other out at the rocks swimming and snorkelling. We settle for the right side along the washed out rock formation, which seems perfect for snorkelling. The beach itself stretches to the left where we could see some nude guys, however there were also families with children, so it's not only intended as nudist beach.
The rocks on the right hand side create a very flat shallow area, where the water is calmer and perfect to get in. On our way in we see a guy with a red starfish on his fin and putting our head into the water reveals small colourful fishes, and even sea urchins.
While Lauza stays mostly in that flatter area, I try to swim further out, finding larger batches of fishes around rocks that are overgrown, providing a perfect environment for fishes close below the water surface.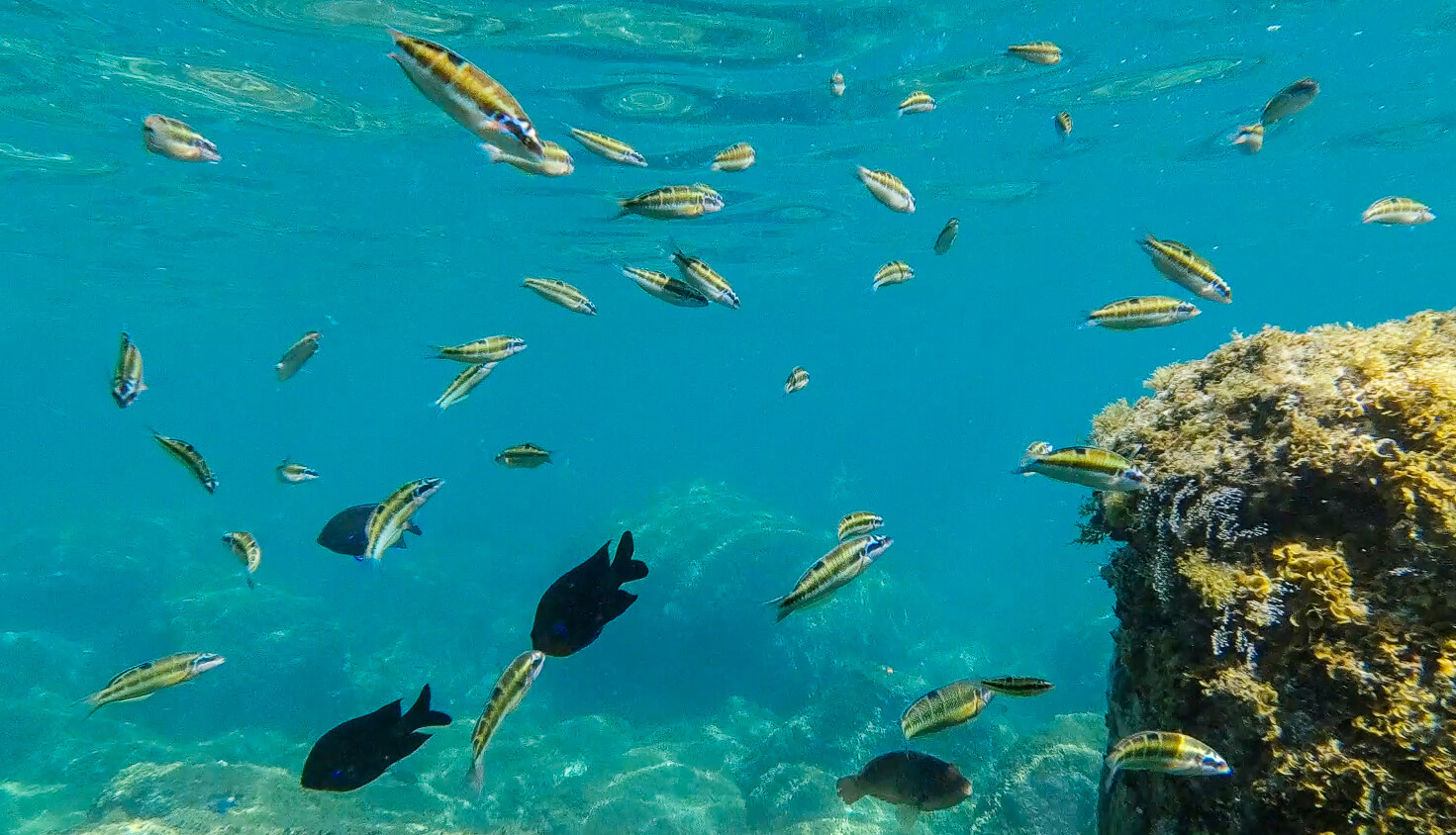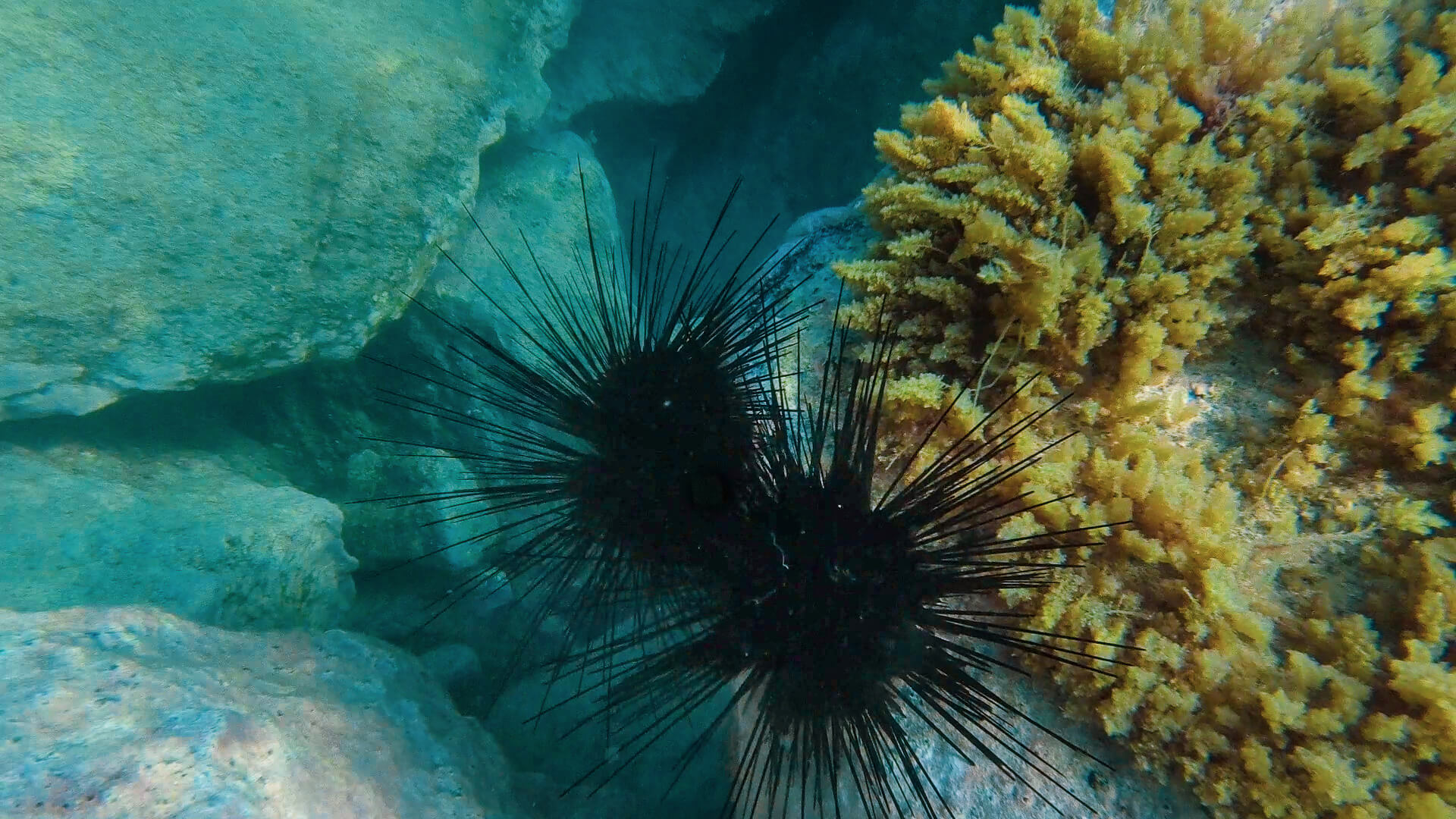 I'm drifting with the waves just like the fishes, which puts me in a state of relaxation I haven't experienced for quite some time.
This was probably the place we enjoyed the most, and where we have also seen the most fishes from all the places visited during this weekend.
It's getting late afternoon and we make ourselves on the way back home to Las Palmas. However, as we pass through Amadores we decide to quickly check out how that suggested snorkelling area looks like - the one we went to first on Saturday but couldn't snorkel due to all the fisher men having their lines in.
When we arrive, there are no fisher men, at least not at that part of the bay, and we seize the moment to experience the calm and very warm water in that beautiful bay. We can't really see many fishes other than some sea urchins but it's great for Lauza to finally not just stay in one spot but swim and snorkel which she truly enjoys.